GREAT POINTER PUPS
This litter was whelped October 27, 2007. Six males and one female.
Woody Touchstone, the breeder, took one male for the stud fee. Since I only keep females in my kennel, I traded him a male for a future female from his kennel.
Woody won the following honors in 2007.
2007 NBHA RU NATIONAL OPEN DOG HANDLER
2007 NBHA RU OPEN HANDLER
My hunting partner who only keeps males took the third male.
The other dogs were sold.
Here are my favorite pictures that tell the natural ability of these pointers. This is Star, my female from the litter, pointing at four months. I have not worked on her style at all. This is natural ability.
Click any of these pictures to see a larger picture.
Here is a collection of pictures from the litter. Click to enlarge.
| | |
| --- | --- |
| | |
| Elhew Diana with pups 11/6/07 | Pile of Pups 11/6/07 |
| | |
| First time out of the box 11/20/07 | Moving Feast 12/1/07 |
| | |
| Pointing at 8 weeks 12/22/07 | Take Me Home 1/30/08 |
The sire is NC Slate Doc Attitude, winner of the 2005-2006 National Open Shooting Dog of the Year.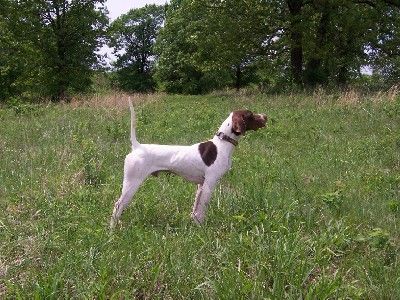 The dam is Elhew Diana.
Diana produced a previous litter of pups that turned into great dogs. Currently, my best dog is Jane who just turned eight years old. She is easy to handle and is the best "dead bird" hunting pointer I have ever seen. She is calm and methodical around birds. My partner took a dog from the same litter and it served him well.
The dogs in the previous litter were a little "soft" and needed to be brought along slowly in the training process. Love and attention worked better than hard discipline in training them.
Below is Diana's Pedigree as completed by the late Robert Wehle from whom we purchased Elhew Diana. Mr. Wehle did not name dogs that he sold. He let the new owners name the dog. This is the reason her name and registration number are blank on this pedigree. Her FSB number is 1484342.
Click here to download a PDF file of the pedigree. Notice the famous pointer names in her lineage.
Elhew Snakefoot, Elhew Mr Mcgoo, Elhew Strike on both sides, Dunn's Fearless Bud, Hook's Bounty Hunter on both sides, and Guard Rail
Note: The PDF of the pedigree may show vertically. Right click on the PDF pedigree and select "Rotate Clockwise" three times to display it horizontally.
Copyright 2011 John Howe, Inc.